King's Day is a national holiday in the Kingdom of the Netherlands. Celebrated on 27 April (26 April if the 27th is a Sunday), the date marks the birth of King Willem-Alexander. This brings two of the most exciting recipes that you can enjoy with coffee or bier!
LEMON BUTTER COOKIES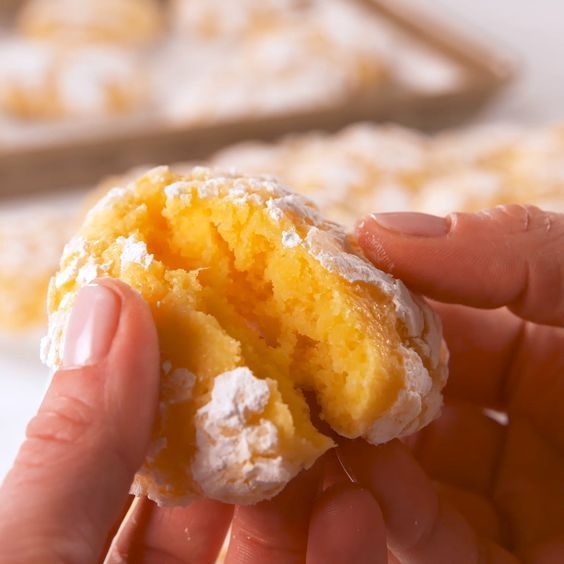 YIELDS:24
PREP TIME:0 HOURS 20 MINS
TOTAL TIME:2 HOURS 40 MINS
INGREDIENTS
2 1/4 c. all-purpose flour
1 1/4 tsp. baking powder
3/4 tsp. kosher salt
10 tbsp. butter, softened 
1 (8-oz.) block cream cheese, softened
1 1/4 c. granulated sugar
2 large eggs
2 tsp. finely grated lemon zest (add orange zest for extra spark along with the lemon)
1/4 c. fresh lemon juice (use a bit of orange juice too, if you want) 
1 tsp. pure vanilla extract
10 drops yellow food coloring
3/4 c. powdered sugar
DIRECTIONS
In a medium bowl, whisk flour, baking powder, and salt. 
In a large bowl using a hand mixer, beat butter and cream cheese with sugar until light and fluffy, about 2 minutes. Beat in eggs, lemon zest and juice, vanilla, and food coloring. Beat in dry ingredients until just combined. Cover bowl with plastic and refrigerate until firm, at least 2 hours and up to overnight. 
Preheat oven to 325° and line a baking sheet with parchment paper. Roll dough into 2" balls, then roll in powdered sugar. Let sit 2 minutes until sugar is absorbed, then reroll in powdered sugar (do not shake off excess). Place about 2" apart on prepared baking sheet and bake until cookies crackle and are set but still slightly soft in the center, 18 to 20 minutes. Transfer to a cooling rack and let cool completely.
SPICED CLEMENTINE UPSIDE DOWN CAKE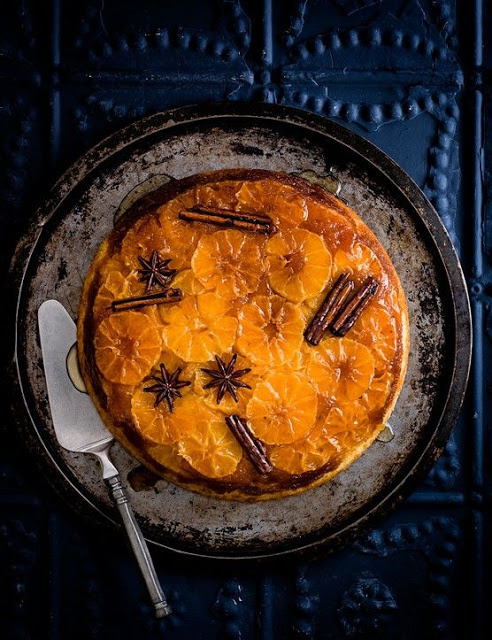 This spiced clementine upside-down cake is great served warm with Greek yogurt as pud, or just as an afternoon treat. The whole spices make it look really stunning when you turn it out. Serves for 8 people.
Try to choose firm-skinned clementines as, although they're a touch harder to peel, they're by far the easiest to zest, and you want every bit of the fragrant aroma contained within the skin.
Ingredients
star anise 3
cinnamon stick 2, halved
caster sugar 280g
clementines 8 small, firm
butter 180g
eggs 3, large
self-raising flour 180g
baking powder 1/2 tsp
milk 3 tbsp
Greek yogurt to serve, (optional)
DIRECTIONS
Measure 250ml cold water into a small heavy-based saucepan, add the star anise and cinnamon, bring to the boil and simmer rapidly for about 8 minutes, or until reduced by half.
Add 100g of the caster sugar to a deep ovenproof frying pan about 25-26cm diameter and set over a medium heat. (If you don't have a suitable hob-to-oven pan, make the caramel sauce in a saucepan, then transfer to a suitably sized cake tin). Allow the sugar to melt and caramelise for a few minutes, don't stir, but give the pan a little shake from side to side to help it mix together. Once the sugar has caramelised, very slowly pour in the spiced water, adding the whole spices too – it'll bubble and spit at first, so take care. Allow the spiced caramel to bubble and reduce for a couple of minutes, then turn off the heat and set aside.
Heat the oven to 180C/fan 160C/gas 4. Zest the clementines into the bowl of a food mixer and set aside. Peel the fruit and slice each into rings about 5mm thick. Arrange the slices in the base of the caramel pan, pushing them snugly together.
Add the rest of the sugar and the butter into the food mixer bowl with the clementine zest and beat together until light and fluffy. Add the eggs, one at a time, beating well between each until smooth and creamy. Add the flour and baking powder and beat once more until mixed. Finally, add the milk and beat until smooth. Pour the batter into the pan on top of the clementine slices, levelling with a knife.
Bake for around 35 minutes, or until a metal skewer inserted into the centre comes out clean. If the top is colouring too quickly, cover loosely with a piece of foil.
Remove from the oven and run a knife around the edge to release the sponge from the pan. Allow to cool for 10 minutes, before inverting onto a plate. Serve warm with a dollop of Greek yogurt, if you like.
You can find more here.
Let us know if you tried making some of them! We would love to hear from you.